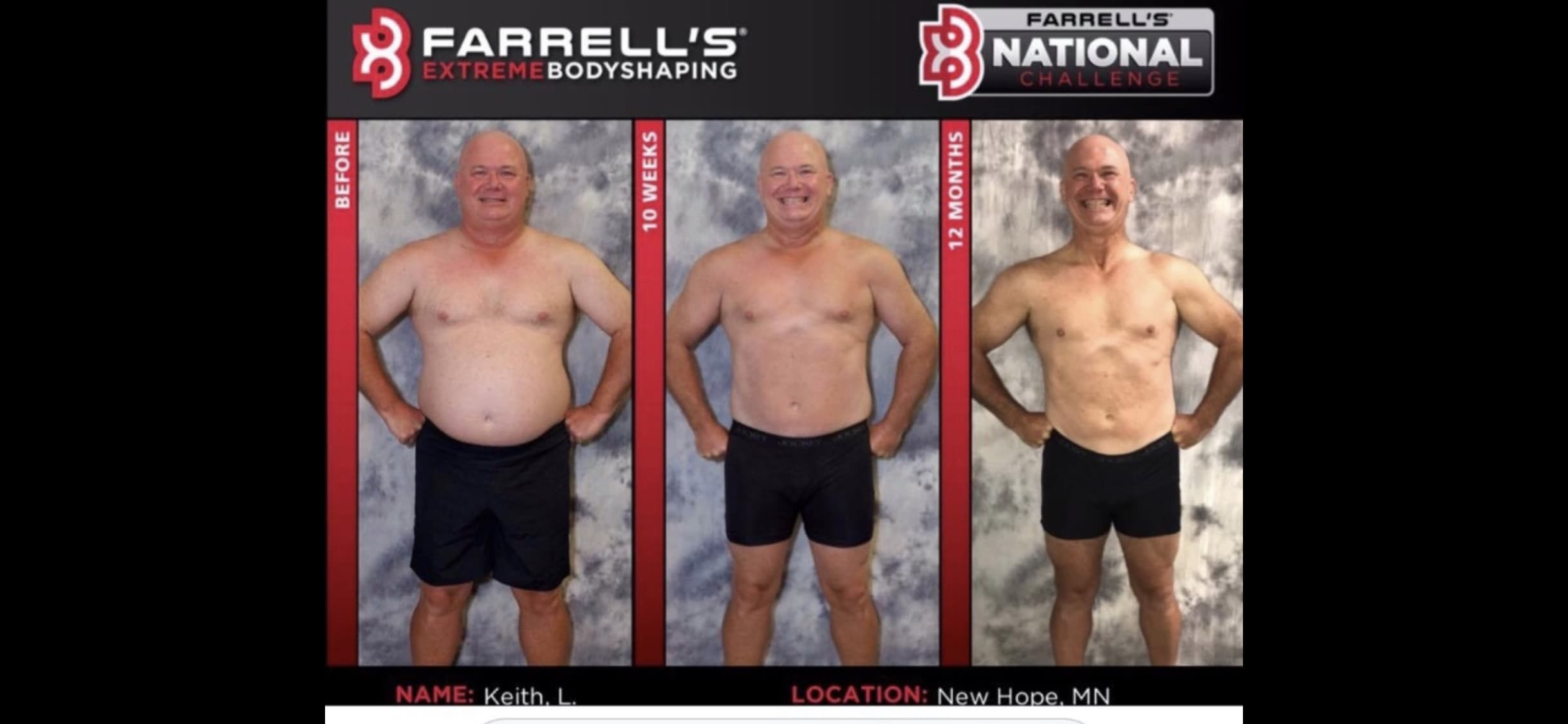 Keith
I joined Farrell's in July of 2017 when a friend of mine convinced me to tag along and give Farrell's a try. I
must say that the last thing I wanted to do was to join a group fitness program. I was 56, feeling old, and
I couldn't imagine finding time in my schedule to work out at a gym.
Classes start and I am so worn out every day. I talk to my coach and keep asking why I'm so sore, and
how do I fix that. Her advice to me was to keep hydrated, stretch before and after class, and keep
attending classes. After a couple of weeks I start getting into the groove. I'm not quite as sore and I can
tell I'm getting stronger. I'm really starting to enjoy working out. At the five week testing, I improved on
all of my physical tests and lost about 14 pounds. That was such a great feeling! At the ten week mark I
had made additional improvements and really started to feel good physically.
My worry about finding the time to work out had vanished. The increased energy I have simply allows
me to do more every day, whether at work or at home. With newfound purpose I am able to accomplish
more and not be my old, tired self. My worry about joining a group fitness class had vanished. If fact, it is
the people at Farrell's that made it possible for me to achieve the results I did. Everyone is so positive.
There are members of all ages, body sizes and physical abilities. I was not even the oldest person there.
There is a true "can do" attitude from the owners, instructors and other members. We are all there
trying to improve ourselves and make our lives better.
As part of my Farrell's journey, I started instructor training after about 7 months as a way to improve my
workouts and keep myself engaged. Surprisingly, I loved it and started instructing strength training
classes and soon after that kickboxing classes. It is such a great feeling to be helping others achieve their
goals.